Razer Serien Mini USB Microphone
Razer Seiren Mini USB Condenser Microphone: for Streaming and Gaming on PC – Professional Recording Quality – Precise Supercardioid Pickup Pattern – Tilting Stand – Shock Resistant – Classic Black, White or Pink
Product Overview
With the Razer Seiren Mini, big sounds can come in small packages. Introducing our ultra-compact condenser mic made for streaming with smaller or portable setups, and capable of producing professional-grade audio – thanks to a supercardioid pickup pattern and a 14mm condenser capsule.
What's it all about?
Ultra-Precise Supercardioid Pickup Pattern: The Razer Seiren Mini is tuned with a tighter pickup angle, so it can focus on your voice while ensuring that background noises like typing and mouse clicks don't get picked up.
Professional Recording Quality: With its 14mm condenser capsule and flat frequency response, the mic broadcasts your voice with stellar clarity that's filled with crisp highs and deep lows.
Ultra-Compact Build: Made for minimalist or smaller setups, it barely takes up any desk space and is discreet on-camera, putting more focus on you. Easy to bring along if you need take your streaming elsewhere.
Heavy-Duty Tilting Stand: Sitting on a sturdy support, the mic can be angled to find the perfect sweetspot for your voice. It can also be detached and mounted on a boom arm or mic stand that uses a standard 5,8-inch thread. Connectivity technology: USB
Features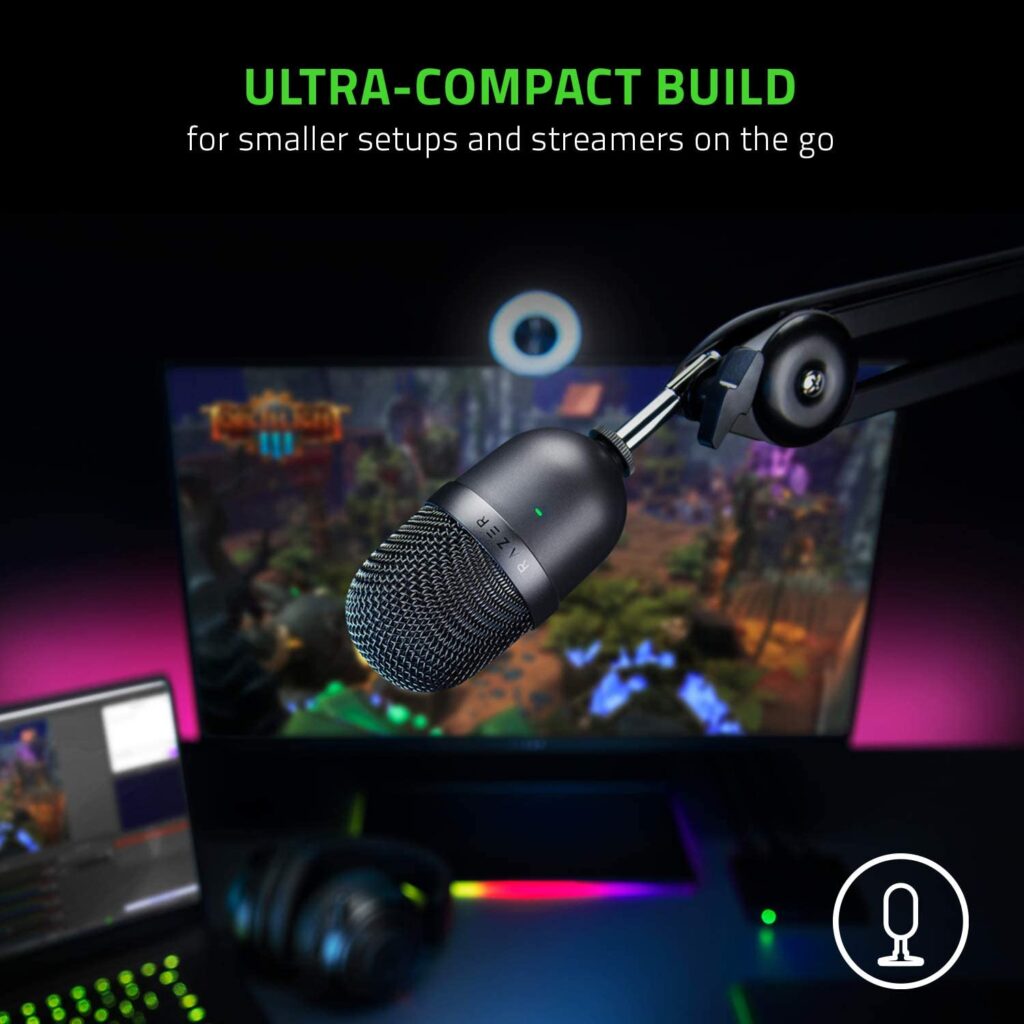 What we think
The Razer Seiren USB Microphone convinces with its minimalist design yet excellent acoustics.
With this microphone big sounds come in a small package. It's great for streaming on the go with smaller or portable setups, especially laptops, and capable of producing professional-grade audio.
We think this is a great value purchase for anyone who wants to record while on the go or wants to reduce clutter or save space on their home recording setup!